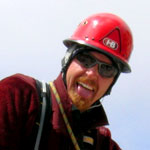 Michael J. Sharp
Dubbed the Evil Super Hero by friends for his penchant for getting them to leave work to play and explore the world. Michael has dreamed of exploring the world from a sailboat since the moment he learned people sailed across oceans in small boats. "You can do that?" he said. "Yep, you can do anything you put your mind to" his mother replied.
Michael, an avid climber, sailor, telemark skier, kayaker, mountain biker and budding surfer who is head over heels in love with Susanna. He has a weakness for good food and seeing what is around the next bend. He is known to carry  "Snobby Salt"* in a little tin in his pocket. "Yumm. It tastes so good!"
---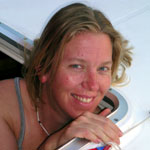 Susanna M. Sharp
Lady Navigator, world traveler, and creative genius. Writer and editor by trade, she has a weakness for Michael and bread with nutty bits. Susanna is genuinely filled with smiles and laughs. She loves to go new places and always seems to come away with new friends and an even greater sense of wonder for the amazing world we live in. She is always trying new recipes and foodstuffs. But never before morning coffee. Molasses in January moves faster.

Contact Susanna
---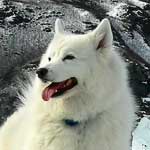 Nisa the Wonderdog 
It was with great sadness that the Adventure Dog Extraordinaire passed on from the this most noble mortal coil at the advanced age of 16 on Christmas Day, 2016. In her years on the planet,  she sail sailed farther, skied more, climbed higher and loved (and was loved) deeper than most people could ever manage in 10 human lifetimes–including licking clean untold numbers if peanut butter jars. She loved to sit and sniff the air and had a particular weakness for strawberries and cheese of any kind. In the entirety of her life she only ever met 3 people she didn't like and her judgment was spot on each time.  She leaves a hole in our lives and in our hearts that can never be filled.
---
*Snobby Salt: Fleur de Sel…Fancy French Sea Salt introduced by good friend George Russell .